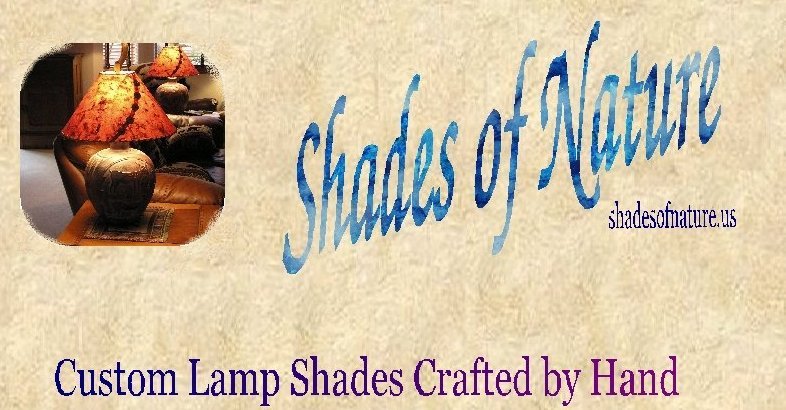 Testimonials
Debbie,
I received the lamp shades and they are absolutely gorgeous. Below is a
picture of one of them. I am having another lamp made and will be placing
another order in a couple of days.
Thanks again,
Paula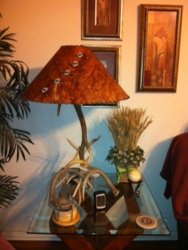 Hi Debbie,
I just wanted to tell you how much we love these shades! This is the symmetrical look we wanted. I had to wait a couple of days to take them
in before emailing you. They are so dramatic at night when they are on and look almost metallic during the day. Very, very attractive! I think
we could have gone for a little shorter in height. It's strange how vertical appears taller than horizontal. They do stand out and so I would
not want them wider. I liked the diagonal decoration with seams that you do on some shades.
I have attached some pictures for your reference, and if anyone asks, I will surely recommend your beautiful shades! What great art!
Thanks,
Donna

Debbie,
Thank you very much for the shades. They were amazing and very well made. Here is a picture of what your shades did for
my lamps. Hope you have a great holiday and look forward to doing business with with you in the future.
Sincerely
Tom

Hello again Debbie,
The shades arrived in excellent shape. You have a great method of securing them for shipment – nice job.
Everyone who has seen it loves the look of the shadow shade (lamp both on and off).
I thought I'd send a photo of a lamp I just finished for a friend who wanted one for his camp.
Hope your New Year is going well. Thanks again for the shades – you have very nice designs and
the shades seem well made. I am looking forward to trying the second one on a table lamp design soon.
Regards,
Steve

Thank you so much for the beautiful lamp shades. They are perfect so I sent
you some pictures of the lamp. This is the first one that I have made and
starting to work on more. Is there a way that I can get a couple of your
business cards? I have a couple of friends that I think will be
interested.
Thanks again, Darryl

Thank you Debbie !
We Love your Lampshade...... We just came home and the huge box was sitting at our front door. We have
a long front porch that is covered, so it was protected...I was so surprised you got it finished so quickly!
My husband, Al, has the lamp held together with his "homemade" wooden dowels, and the base was a piece from
a tree he had cut down a little less than two years ago (so, it was not green wood).
Al just stained and finished the wood, after sanding it....
Hope you enjoy looking at these pictures of the finished lamp. The best part is, it is all " made with loving
hands".... Yours, and my husbands...
The size of your beautiful Shadow Fly Fisherman 6x24x14, lampshade, balances the whole effect! It is the
perfect size..
We could not be more impressed with your artistic ability !
Hope to order more shades from you in the future!
Thank you again, Debbie,
Mary Ellen

Hello!
Just wanted to let you know I received my mule deer lamp shade today - and I love it! A very beautiful
shade indeed, and it goes absolutely perfectly with the mule deer antler table lamp my dad made for me
several years ago. I've been looking for the perfect shade all that time and I finally found it!
And the super-fast shipping was great too! Thanks!
Barbara B.

Hi Shades of Nature! I just wanted to share this pic with you so you could see how great the shade
looks on the lamp my husband made me out of a piece of cyprus he has been hanging onto for 30 years
and some old barn rafters and floor boards.
Thanks!
Jan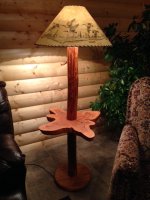 Good Morning,
I thought it would be nice to show you how beautiful your shade looks on our interesting
lamp. My husband shot a 500 pond bear and this is his paw made into a lamp.
Thank you for doing what you do!!
Debi

Hello Debbie - (I am terrible with names, but I think I got it right). I am Paul and ordered
a lamp shade for my Dad and Step Mom a month or so ago. I told you that I would send you a
picture of the lamp and I think you will be pleasantly surprised. All I did was give you the
dimensions that I knew of, and I didn't know them all, but your professionalism picked the
perfect lamp shade.
Thank You again for your help and if we ever need another lamp shade, we will definitely
chose you.
Have a great 2014
Paul & Carole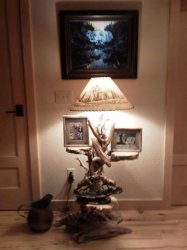 Please Feel Free To Contact Us

- Goldendale, WA -
509-773-4823
Email

HOME PAGE