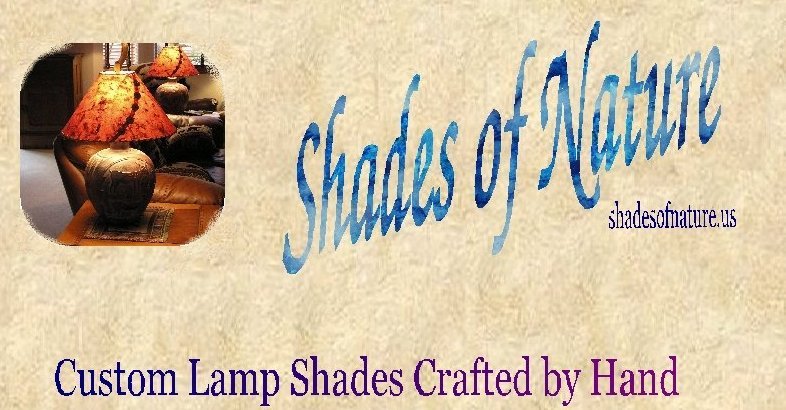 Lamp Shade Sizing

Wildlife-Fireside-Rawhide Glow Shades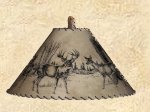 It's important that you get the proper size lamp shade for your lamp and that you use the appropriate size harp so that you don't see the lamp hardware below the bottom of the shade. We make four standard size shades that will work very nicely on most lamps.
Lamp Shades have three measurements. Top Diameter, the measurement across the top. Bottom Diameter, the measurement across the bottom and Slant height, the measurement from the top of the shade to the bottom measured on the angle of the shade. If you are replacing a shade on a lamp that the current size works well, these are the measurements you will want to duplicate as close as possible. If you have a new lamp that needs a shade it can be helpful to try some different shades on that you already have to get an idea of the size that looks best. Keep in mind that you can always make adjustments by changing the harp size.
| | | | | | | | | | | |
| --- | --- | --- | --- | --- | --- | --- | --- | --- | --- | --- |
| The standard lamp shade sizes are: | | Extra Small | | | | 5" x 16" x 10" | | | | Recomended Harp Size 8" |
| | | Small | | | | 5" x 18" x 11" | | | | Recomended Harp Size 8" |
| | | Medium | | | | 6" x 20" x 12" | | | | Recomended Harp Size 8" |
| | | Large | | | | 6" x 24" x 14" | | | | Recomended Harp Size 10" |


Drum Shades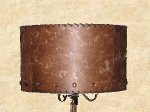 Drum shades are generally thought of as a classic style shade. They can be used on most any kind of lamp if they are sized correctly. The look you may want to achieve can be determined by your paper choice and size. On a Drum Lamp Shade the top and bottom rings are the same diameter. The side height is measured straight up and down from the top of the shade to the bottom. The most common sizes for 1940 and 1950 vintage floor lamps are 18" or 19" across the top and bottom and 11" side height. The standard sizes we make are listed. If you need something custom, please call or EMail for a quote.
Harp Adjustment
The harp holds the lamp shade and it can be removed. If you can see an inch of lamp hardware below the shade, you may need to get a harp that is 1" shorter. If your lamp shade hangs down too low and is covering up your lamp, you need to get a taller harp that will raise the shade the appropriate amount. Don't be afraid to play around, it's important to get everthing just right!

Example of the same rustic lamp with different shades and harp sizes
Take a look at the pictures below, the same lamp is shown with 4 different shade sizes, 2 different shade styles and different harp sizes. See how you can adapt each size and shape of shade to the lamp and give it the look that you love most!
| | |
| --- | --- |
| | |
| 16" Lamp Shade & 7" Harp | 18" Lamp Shade & 8" Harp |
| | |
| --- | --- |
| | |
| 12" x 8" Drum Shade 6" Harp | 12" x 9" Drum Shade 6" Harp |

Please Feel Free To Contact Us

- Goldendale, WA -
509-773-4823
shadesofnature@gorge.net

HOME PAGE